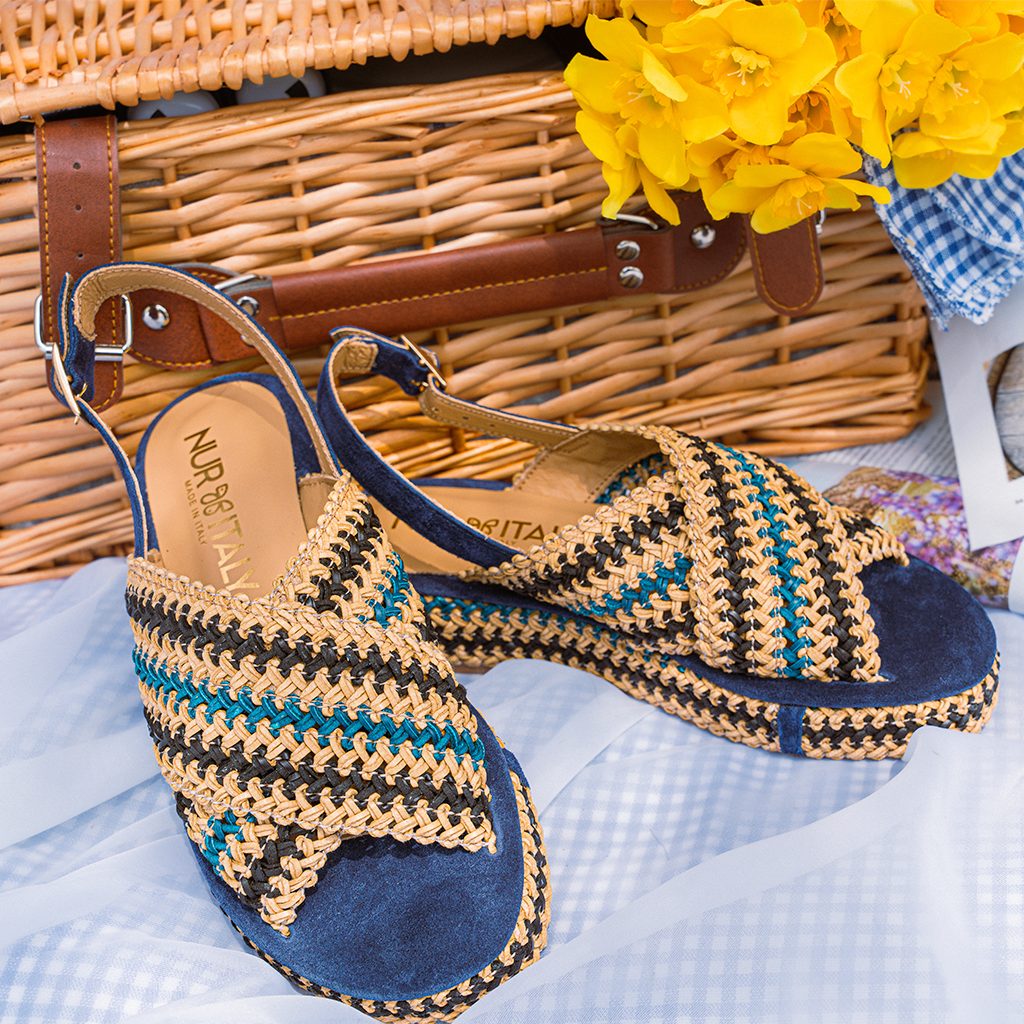 Embrace the Mediterranean Vibes with NUR Italy's Alessandra and Vittoria Styles
Summer is here, and it's time to update your wardrobe with chic and stylish footwear. Look no further than NUR Italy, the epitome of elegance and craftsmanship. Their two exquisite styles, Alessandra, and Vittoria, perfectly embody the spirit of summer fashion. Let's explore these stunning designs that will elevate your summer outfits to new heights.
Alessandra: The Riviera's Fashion Icon
Inspired by the vibrant colors of Capri's Grotta Azzura, the Alessandra shoe from NUR Italy is a must-have for late-night strolls along the Riviera. Its cobalt, royal blue, and bronze crossover handwoven raffia upper exude a sense of coastal charm and sophistication.

The flatform design of Alessandra adds a contemporary twist to your summer look, while the natural calfskin lining and padded insole ensure comfort throughout the day. Handmade in Italy, these shoes are a true testament to Italian craftsmanship. Slip into the Alessandra and experience the allure of Capri with every step.
Vittoria: The Golden Reflection of the Mediterranean Sea
For those seeking a touch of luxury and glamour, the Vittoria style from NUR Italy is the perfect choice. With its cross-over golden upper and raffia accents, this platform shoe captures the essence of the Mediterranean sun reflecting on the sea.
Crafted with genuine Italian laminato leather and featuring a natural calfskin lining, the Vittoria offers both style and comfort. Pair it with a breezy linen summer dress, and you'll effortlessly radiate elegance wherever you go. Handmade with meticulous attention to detail, the Vittoria showcases the artistry of Italian shoemaking.
NUR Italy's Alessandra and Vittoria shoes are the ultimate companions for your summer adventures. With their captivating designs and impeccable craftsmanship, these shoes elevate your style and reflect the essence of the Mediterranean.

To discover more about NUR Italy's summer styles and to find the perfect pair for your wardrobe, visit our website at www.nuritaly.com. Step into the world of NUR Italy and embrace the beauty of summer fashion like never before.
Bianti
Last Thursday, we had the incredible opportunity to be part of the official launch of the online store of former Miss Venezuela International, Blanca Aljibes. It was an honor for us to announce tha...
Read more